This month I was excited to finish both February and March's blocks for the Moccasin BOM hosted by AnneMarie of Gen X Quilters. You can check out my January blocks in a previous post: Lady of the White House
March's blocks were the two shoofly and the crow's foot. The crow's foot is certainly my favorite of the bunch. I used the two different greens inside cause I like how they're the same tone as the green solid on the outside.
February's block was curves; a drunkard's path to be exact…and it didn't go so well, which is why I procrastinated quilt a bit on them. My last of the curves came out better than the first and I unpicked a few but then after cussing and throwing a few pieces of fabric across the room I took the "imperfect curves are better than an unfinished block" approach. Maybe I'll revisit it later in the year.
In other news there's some exciting updates coming in the next week over at my project QuiltAlong.net – subscribe to the newsletter over there to keep updated!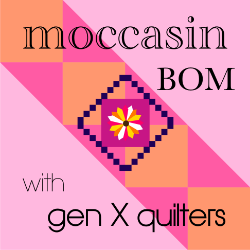 Linking up with…